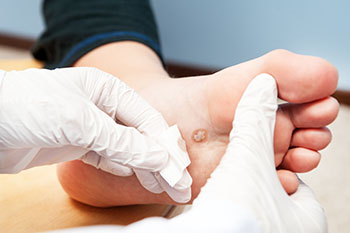 Plantar warts are warts that are only found on the feet, hence the term "plantar", which means "relating to the foot." They are caused by the human papillomavirus, or HPV, and occur when this virus gets into open wounds on the feet. The warts themselves are hard bumps on the foot and easily recognizable, mostly found on the heels or ball of the foot. For the most part, plantar warts are non-malignant, but they can cause some pain, discomfort, and are often unsightly, so removing them is often the first step taken.
Plantar warts can cause some pain while standing, sometimes felt as tenderness on the sole of your foot. Unless the wart has grown into the foot behind a callus, you will be able to see the fleshy wart. Because plantar warts are not cancerous or dangerous, a podiatrist should only be consulted if there is an excess amount of pain associated with having them, if they are affecting your walking, or if they continually come back. However, anyone who suffers from diabetes or a compromised immune system disease should seek out care immediately.
Podiatrists are easily able to diagnose plantar warts. They usually scrape off a tiny bit of the rough skin in order to make tiny blood clots visible and show the inside of these warts. However, a biopsy can be done if the doctor is not able to diagnose them from simply looking at them. For a less invasive treatment option, topical creams can be used through a doctor's prescription, which may help given enough time and patience. Keep the wart covered for protection in between daily treatments.
The best way to avoid developing plantar warts is to avoid walking barefoot in public places, especially when you have open sores or cuts on your feet. It is also important to avoid direct contact with any other warts you might have or warts other people might have, as they are highly contagious.